New Life Children's Homes Managing Director
Managing Director's Role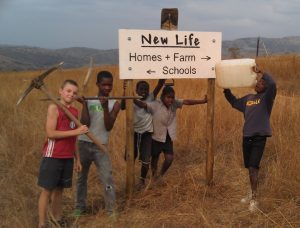 The Managing Director will have overall operational and management responsibility for New Life Children's Homes in Eswatini. The organization implements best practice in orphan care and requires knowledge, experience, maturity and long-term commitment. This individual or married couple will work in collaboration with local staff to oversee the residential care homes, farm, and primary school.
About New Life Children's Home
New Life Homes provides a permanent, Christ-centered home for orphaned or abandoned children who have no other alternative for care. Children are placed in a family setting, which includes 8-10 children and a Swazi housemother. Currently there are four homes and 35 children living in community on a 200-acre working farm. The farm, which provides food and income for the children's homes, is a key component of NLH's self-sustaining model. The school provides high quality education for the resident children as well as children from the wider community.
Directors Job Description:
Oversee the residential homes:

Ensure the atmosphere of each home is such that every child grows in a loving, safe, Christian family home as defined in the NLCH vision.
Hire and ensure ongoing training of house parents.
Ensure that National Standards for care centers in Eswatini are met and exceeded through continued research and development providing improvements for Caregivers and homes.
Promote development, welfare, health, and education for children and staff
Oversee home budgets and all financial matters of NLCH
Attend to administration and record keeping
Lead the spiritual development of children and staff

Oversight of the New Life Homes Farm:

Work with the farm supervisor to ensure ongoing productivity
Provide leadership for personnel, finances and developmental plans

Oversight of New Life Primary School:

General oversight for preschool through grade seven classes
Ensure teachers are hired and performing according to set standards
Qualifications for Ideal Candidate:
Demonstrated Christian character and lifestyle
Demonstrated leadership ability
Ability to communicate complex ideas across cultures and education levels
Minimum of a B.A./B.S. degree in a relevant field
Experience working with vulnerable children and managing an organization is preferred.
Willingness to fundraise as required
Send resume and cover letter to:
Mary Jean Kopp
[email protected]
www.africanleaderhippartners.org