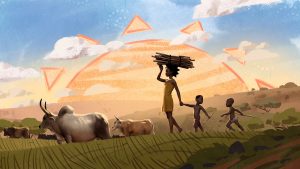 We are on our way!!! Five teenagers from New Life Childrens' Homes have received all that's necessary for them to attend the premiere of "Liyana," the stunning film they made happen. Never out of Eswatini before, they are traveling through Dubai to the Los Angeles Film Festival, –as invited guests.
The past four weeks have been grueling, confusing, and exciting all at the same time. Peter has been up and down to the capital city multiple times, pushing every button we could, trying to learn and accomplish what many said could not be done in the time available. A number of people have stepped up to expedite the process. Now we're all but in the car, leaving Tuesday, 13 June.
We're still nervous about traveling through South Africa with their excruciating rules applied to youth traveling with other than their biological parents. Please pray this will go well!
Check out this first look from Entertainment Weekly.