Posts Tagged 'New Life Homes'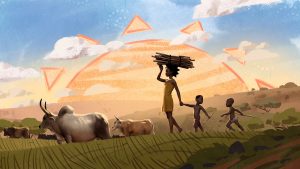 We are on our way!!! Five teenagers from New Life Childrens' Homes have received all that's necessary for them to attend the premiere of "Liyana," the stunning film they made happen. Never out of Eswatini before, they are traveling through Dubai to the Los Angeles Film Festival, –as invited guests.
The past four weeks have been grueling, confusing, and exciting all at the same time. Peter has been up and down to the capital city multiple times, pushing every button we could, trying to learn and accomplish what many said could not be done in the time available. A number of people have stepped up to expedite the process. Now we're all but in the car, leaving Tuesday, 13 June.
We're still nervous about traveling through South Africa with their excruciating rules applied to youth traveling with other than their biological parents. Please pray this will go well!
Check out this first look from Entertainment Weekly.
We've received some shocking and tragic news from our colleagues at New Life Childrens Homes.  Please pray for them.
Winni is one of our house-mothers, a smart and wonderful person who gives more than her share to the efforts of the total operation of homes, farm, and school.  She came with four children.  Two sons are in their twenties, and two younger girls who live with her "added" family at New Life Homes.
Her second son, named Nkululeko ("freedom") and about 20 years old, completed high school last year and has been living and working on the farm for most of these past two years.  Last year he was selected by the students and staff of his school to hold the position of "Head Boy", leading a group of prefects (both girls and boys) who are recognized as student leaders and assist in the operation of the school.   He was most worthy;  an honest, sensitive, and hard-working young man.
Apparently there was a problem related to a girlfriend that was unacceptable to some of her relatives, two of whom came to the residence in the community where Nkululeko was staying overnight.  They attacked him, beat him badly, and he died alone sometime during the night.
For any mother to lose her son is a terrible blow.  To lose a good son to such brutal and senseless violence is worse.  To any mother in Africa where there are no social security structures, losing a son is also a huge economic blow, akin to losing all one's retirement resources.
Please pray:
For Winni, her son Bongani (an outstanding young man in his last year at university), and her daughters, Rita and Lynette.
For the other 40 children, three other house-mothers, and all the farm staff.  They also still remember the attack by four armed thugs some three years ago.
 For justice & mercy to be served.  We understand two young men have been arrested, confessing to their actions.
For Tommy & Mandi Bottoms, who shoulder the major leadership at New Life Homes in our absence.  Tommy has spent a great deal of time mentoring  Nkululeko, AND he had also been tutoring one of the alleged culprits in mathematics in preparation for his end-of-high school exams.
For Tiersa Chaffin, who only arrived at NLH two weeks ago, to train our preschool teachers.
For Rob & Jennifer Taylor, who work at the farm and schools, live a distance from the farm, but engage with children and staff each day through their ministry  roles.
For Mary Jean and me, who are trying to provide support, counsel, and some measure of leadership from afar, while continuing the ongoing travelling ministry to  our support network which we are currently undertaking in the USA.
By God's providence, two pastors, and their wives, from a supporting church of ours in California were visiting that weekend.  While not the confluence of affairs we would choose, God's wisdom had them on site.
Thanks for praying,
Peter